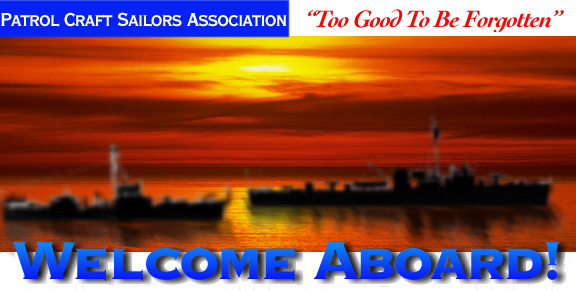 Section Shortcut:
(OFFICERS) (HISTORY OF THE PCSA) (THE PCSA TODAY)
(THE NEWSLETTER) (REUNIONS) (LIBRARY & MUSEUM)
(HOW TO JOIN THE PCSA)
INTRODUCTION:
The Patrol Craft Sailors Association (PCSA) is a international, naval veterans organization dedicated to preserving the history of World War II and Korea-era Patrol Craft and their crews, and of the Cyclone-class Patrol Coastals of today's Navy. Our motto, "Too Good to be Forgotten" speaks for itself. The PCSA was founded in 1986 and incorporated in the state of Illinois in 1987 as a nonprofit, veterans organization.
Objectives:
Provide a means for fellowship and communication among naval personnel who served or are serving in patrol craft.

Arrange and promote an annual reunion/convention.

Enhance recognition of the patrol craft sailors who served during World War II and the Korean era.

Publish a newsletter of interest to patrol craft sailors.
Visit our PCSA Exhibit and Archives in Bay City, Michigan!
---
OFFICERS

PRESIDENT
August K. Brenner
PC 1387
(574) 231-1802
E-mail
VICE PRESIDENT
Robert G. Cope
PC 558
(201) 837-7635
E-mail
MEMBERSHIP
Jim Heywood
PC 609 (Life Associate)
(513) 253-4430
E-mail
TREASURER
Paul Kelly
PCER 852
(248) 956-0559

E-mail
SECRETARY & PUBLIC AFFAIRS
Daniel M. Treadwell
SC 648 Assoc Life
(301) 933-2546

E-mail
PUBLIC AFFAIRS
Duane D. Walters
PC 1204
(315) 487-2623

E-mail
The elected officials of the PCSA consists of the President, Vice President, Secretary, Treasurer and nine Directors. Various committee chairmen fill out the governing board.
Officers serve a term of two years and may serve for more than one term if re-elected.
Directors serve for a term of three years and may succeed themselves. Three new Directors are elected each year.

---
HISTORY OF THE PCSA:
The PCSA came about due to the foresight, dedication and determination of two former subchaser sailors, Wesley (Wes) Johnson (1919-1997) of PC 564 and Patrick (Pat) Ward (1922-1993) of PC 565.
Both Wes and Pat had been active over the years, keeping alive memories of their individual ships, preparing newsletters and organizing reunions for their former shipmates. However, with the small number of crew members that served in a PC, a large group of veterans coming together for a reunion was precluded.
In 1986, Wes and Pat, along with Rear Admiral Alban Weber, USNR (Ret)(1915-2009), (PC 564) conceived the idea that a national organization of all small craft sailors would be best suited to preserving the history of the heretofore untold wartime services of the patrol vessel fleet. These three former sailors formed the nucleus of the PCSA, giving of their time and money, to create an organization of former sailors who are "Too Good to be Forgotten."
On April 21, 1987 the PCSA was officially incorporated as a not-for-profit organization in the State of Illinois. The stated purpose is: "To provide an organization for veterans of the patrol craft of World War II, to preserve the history of their activities, and to educate the public in the importance of their accomplishments."

---
THE PCSA TODAY:
Of the over 1,100 small craft built during World War II for antisubmarine patrol, convoy duty and invasion support, many were given or sold to our allies or sold for scrap. There are no WW II patrol vessels remaining on the U.S. Navy register of ships.
Membership
From the 96 "Plank Owners" that commissioned the PCSA in 1987, our membership grew to over 2,000 members. We are presently holding at around 1,000 active members, but our membership is slowly dwindling as our aging members pass on. In addition to members from all 50 states, we have members residing in Canada, Australia, and Norway.

---
THE NEWSLETTER: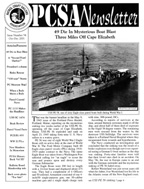 The PCSA Newsletter is published quarterly in January, April, July and October and distributed to all members in good standing. Wartime experiences, sea stories, articles and other news worthy items are furnished by the members.
"Family-grams" and articles on deployment of the Cyclone-class Patrol Coastals (PCs) of today's Navy enjoy their own section in the Newsletter.
Editorial offices are located at 11610 Paso Robles Avenue, Granada Hills, California 91344-2552
REUNIONS:
National reunions are held annually and have become highly successful affairs. Following Jacksonville in 1988, succeeding years saw reunions in San Diego; St. Louis; New Orleans; Charleston, South Carolina and Portland, Oregon.
In 1994, Midland / Bay City, Michigan was our destination, where we enjoyed the largest turnout ever with over 500 members, their wives and guests in attendance. In conjunction with our reunion, a special exhibit entitled "Patrol Vessels in WW II," made up of artifacts from the PCSA Collection, was officially opened in the Historical Museum of Bay County.
Phoenix, Arizona was our reunion city in 1995, with Danvers, Massachusetts the host city in 1996. In 1997, we returned to San Diego to celebrate our 10th annual reunion and where we enjoyed ship visitations and a "mini sea-trip" on USS Monsoon (PC 4), courtesy of Special Boat Squadron ONE.

In 1998, over 400 members attended the reunion in Virginia Beach, Virginia where the highlight was a cookout with Special Boat Squadron Two and Patrol Coastal (PC) personnel. In 1999 we returned to Midland / Bay City, Michigan for our reunion and special PCSA exhibit entitled "The Donald Duck Navy" in the Historical Museum of Bay County.

We opened the new century with a reunion in Mobile, Alabama; followed by Omaha, Nebraska in 2001, Reno, Nevada in 2002 and Buffalo, New York in 2003.

In 2004 we returned to Midland/Bay City, Michigan, where 163 members and guests enjoyed "The Making of a Recruit: A Sailor's Diary," the featured exhibit in the Historical Museum of Bay County in Bay City. The exhibit was open to the public from April 2004 through February 2005, and included many artifacts and memorabilia from the PCSA Collection.
We visited Seattle, Washington in 2005 followed by Chicago, Illinois in 2006. A guided tour of the Great Lakes Naval Training Center and attendance at a Recruit Graduation Ceremony was the highlight of our Chicago reunion.
There were 159 attendees at our 2007 annual reunion in Washington, DC. Highlights of the reunion were a memorial service for our departed shipmates at the Navy Memorial; a visit to the Marine Corps Barracks for their Evening Parade ceremonies and a memorable tour of the Naval Academy in Annapolis. 161 members, family and guests enjoyed the many historical monuments and attractions of our nation's capital.
At our 2008 reunion in Branson, Missouri we were joined by members of the Naval Minewarfare Association (NMA). However, the joint reunion received minimal acceptance and plans for future joint reunions were abandoned. 2009 saw our members enjoying the many historical sites in San Antonio, Texas. In 2010, our members mustered in Long Beach, California where old friendships were renewed and a good time was enjoyed by all. A tour of the Queen Mary, whose World War II service was unparalleled, was the reunion's top attraction. The Queen Mary transported more than 800.000 troops safely across the Atlantic during the war.
2011 Our reunions have come full circle this year with our meeting in Jacksonville, Florida. It was back in 1987 that members of the newly formed PCSA met for the first time as a national veterans organization in what was to become a successful annual affair. However, time has taken it's toll and we saw only a small turnout of members. Though few in number, they enjoyed getting together once more with their shipmates and tours of Jacksonville and historical St. Augustine.
2012 saw a small group of members and their guests gathering in Kansas City, Missouri. All attendees were in agreement that Kansas City rates a big 4.0!
2013 we met in Norfolk, Virginia to celebrate our 25th reunion. Norfolk is a great city to visit with its' many historical sites, museums and other attractions. Our members enjoyed the General Douglas MacArthur Memorial and Museum, a tour of the Norfolk Naval Base, one of the Navy's oldest and continuously running naval stations, and were in awe of the immensity of the USS Wisconsin (BB 64), one of the largest, and last battleship built by the Navy during World War II.
2014 saw our members meeting to St. Louis, MO. The highlight of the reunion was the after dinner presentation by our guest speaker, Commander Sean D. Kearns, USN; Commanding Officer of the USS Constitution, "Old Ironsides", the oldest commisioned warship afloat in the world. CDR Kearns and some of his crew were our guests at the banquet.
2015 We returned to Bay City, Michigan where we enjoyed a "sneak preview" of a major exhibit of our artifacts and patrol craft ship models from the PCSA Collection before the exhibit was officially opened to the general public.
2016 We returned to New Orleans where the attendees enjoyed a tour of this historic city and a visit to the WW II Museum. The displays brought back memories for those whose ships had participated in the battle-action in areas depicted in the display.
2017 we met in Jacksonville, Florida; where our members were treated to a tour of the U.S. Naval Station Mayport in Mayport, Florida, and a ship visitation.

---
The PCSA Collection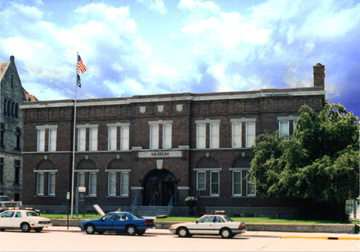 The dream that Wes Johnson and Pat Ward had of acquiring and restoring a representative PC as "flagship, museum and historic ship" was, unfortunately, not to be realized - the few ships of this class that remained worldwide were not salvageable.
However, the dream of establishing a library and museum exhibit to preserve our wartime history has become a reality. The PCSA Collection, consisting of an Archive reference library and permanent Exhibit / Display area of WWII memorabilia and artifacts, is located in the Historical Museum of Bay County in Bay City, Michigan.
Bay City is considered to be the "Birthplace of the PC" - Defoe Shipbuilding Company built the first two prototype, pre-WW II, 173-foot Patrol Craft there in 1939-1940, as well as constructing another 56 PCs during WW II, more than any of the other fifteen shipbuilders in the PC program.
In June 1994 the PCSA, along with the Bay County Historical Society, dedicated the PCSA Archive and officially opened a special "Patrol Vessels in WW II" exhibit.
Materials in the PCSA Archive is available to historians, researchers and others interested in our patrol craft wartime service.
In January 2001, the Kantzler Maritime Gallery, where our PCSA permanent exhibit area is located, was formally dedicated and opened to the public. The permanent Gallery exhibit "Bay City: Seaport to the World," tells the story of Bay City's Maritime past through graphic displays, "Hands-on" exhibits, scale models and audiovisual items.
In January 2010, the museum staff proudly introduced their "PATROL CRAFT SAILORS - TOO GOOD TO BE FORGOTTEN" documentary DVD. This documentary tells a part of our WW II patrol craft history as seen through the eyes of former crewmen. The documentary is centered around personal interviews with former PC and SC crewmen relating some of their more memorable experiences, both factual and humorous. Their Stories are enhanced by historical combat footage of Soldiers and Marines swarming ashore during some of the many invasion landings supported by the patrol craft.
This documentary is a long over-due tribute to all the sailors who have served, or are presently serving, in Patrol Craft vessels.
This outstanding documentary DVD is available for purchase in the Museum Gift Shop or by mail order. For more information on how to purchase this DVD, please contact Michelle Piesik, Gift Shop Manager, at (989) 893-5733 or email address - mpiesik@bchsmuseum.org.
Visit the Museum's web site to view the various programs, events and functions.
Navy Memorial connection
In early 1987, the directors voted to raise funds to purchase one of the twenty-seven bronze bas-relief plaques planned for the Navy Memorial in Washington DC.
Unfortunately, the $50,000 required for the bas-relief plaque was not reached by the deadline set by the Memorial.
With the funds available, the directors elected to purchase a panel on the grand staircase leading from the Plaza level to the Gallery. The panel is made of granite and glass, forming a wave action, with a sand-etched PC on the glass and a bronze plate crediting the PCSA as contributor. The PCSA is also acknowledged on the donors plaque of substantial donors.
Additional funds received after the staircase panel was purchased allowed the PCSA to purchase seat 16, Row E, in the Arleigh and Roberta Burke Theater. The seat is identified with a commemorative brass plate reading: "Patrol Craft Sailors, Too Good to be Forgotten."

---
HOW TO JOIN THE PCSA
Regular Membership is open to all personnel having served in WW II and Korea-era ships classified as Patrol Vessels: Subchasers (PC, PCE, PCER, PCS, SC), Escort Vessels (PE, PF), Gunboats (PG, PGM), Patrol (PY, PYc, YP), Minesweepers (AM, AMc, YMS), other various small ships and all personnel serving or having served in today's U.S. Navy Cyclone-Class Patrol Coastals. Dues: $15 per year, $25 for two years, $35 for three years and $100 for a Lifetime Membership.
Associate Memberships are available to the spouse and relatives of Regular and Active Duty Members, living or deceased. Dues: $10/a year, $15/two years, $20/three years and Associate Life/$50.
Contact: Jim Heywood - 9373 Jamaica Beach, Galveston, Texas 77554
Phone (513) 253-4430
Email E-mail
Join the PCSA ... today!
---
Patrol Craft Sailors are "Too Good to be Forgotten."
Thank you for visiting our web site!

Short-cut to:
Back to the main page.
The PCSA
Patrol Craft (PC)
Patrol Gunboat Motor (PGM)
Patrol Craft Escort (PCE)
Subchasers (SC)
Cyclone-Class Patrol Coastal


Web design by Chris Matyas. Editor, Mark Matyas.

Patrol Craft Sailors Association © copyright 2005-17, all rights reserved